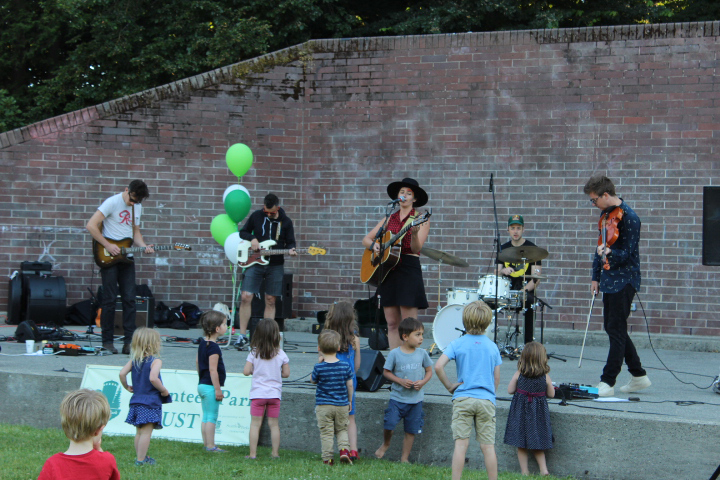 The path from the Carriage Drive to the Amphitheater is steep. It may be easier to approach the stage from the uphill side, on the path to the Lily Pond..
The performing arts have been part of Volunteer Park's history since the first concert grove was constructed in 1910. The first stage was built where the Seattle Asian Art Museum is located today as part of a pergola structure. Not long after its construction, though, performers began criticizing the bandstand. Olmsted remarked in his field notes that musicians were notoriously hard to please and that he had attended a performance and it sounded just fine to him. Nevertheless, he met with Park Commissioner Edward Cheasty and several other men involved with a symphony to discuss possible locations for a new bandshell. They considered the southwest corner, where the ground had been graded for the playground that would not be built and a small valley in the northwest corner. Neither site appealed to the committee, but a third site, on the north side of the reservoir did. Olmsted objected because it would mar the view across the lawn from the concourse. The idea gained steam and a wooden bandshell was built in 1915 on the lawn where the current amphitheater is today. It was designed by Carl Gould, who would later design the Burke Memorial and the art museum in the park.
That structure suffered in the weather and from maintenance issues, and it was torn down in 1947. It was replaced in 1971 with the Richard Haag-designed brick and concrete amphitheater that is in use today. The lawn immediately in front of the structure was regraded to form a bowl for audience seating.
The Volunteer Park Trust is currently working on replacing the amphitheater with a new structure.
To reach the next stop, continue following the path behind the amphitheater toward the reservoir. At the junction of paths, turn left and walk straight up the hill until you reach the fork in the path.