Federal Office Building
909 1st Avenue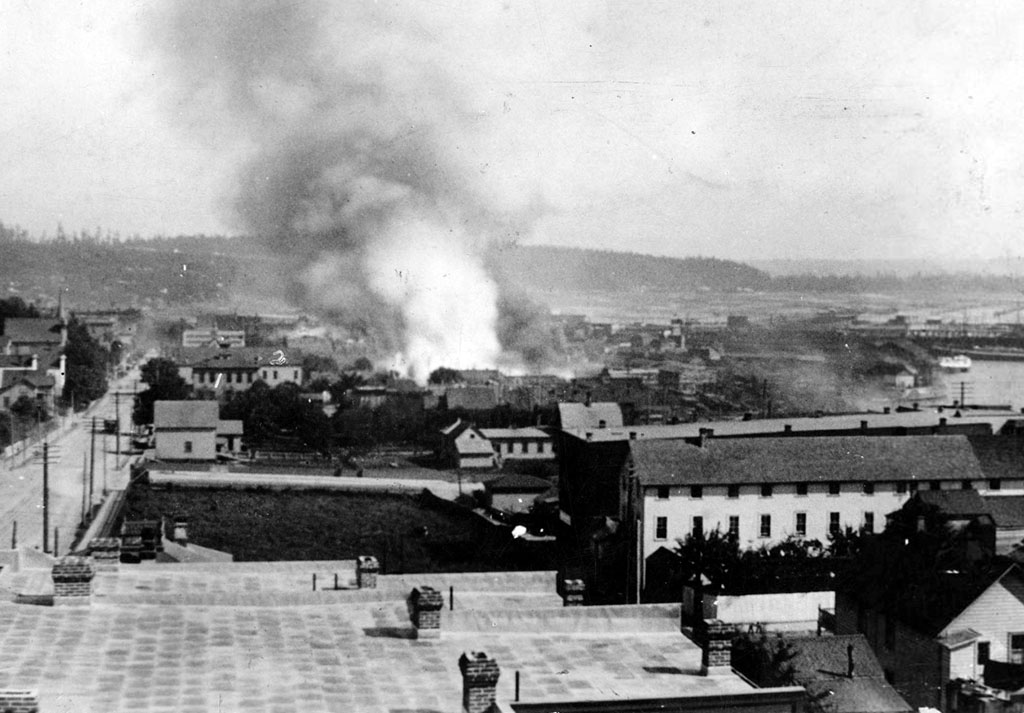 Federal Office Building

909 1st Avenue
Western and Madison/Marion block (mid-block)
For a place that has only permanent structures on it for less than a century, this parcel of land has quite a story. Before the Great Fire of 1889, the Seattle Lumber and Commercial Company had a sawmill and lumber wharf on the shoreline side. On the inland side, facing Front Street (today's 1st Avenue), so named because it ran along the shoreline before the city grew out over the beach, nine small businesses had storefronts. They included a liquor wholesaler, a candy manufacturer, a tinsmith, a furniture upholsterer, a grocer, a fruit seller, a cigar shop, and a "flour, feed, and grain" store, according to the 1884 Sanborn Insurance Map. On June 6, 1889, the fire that leveled most of Seattle started in a cabinet shop on the southwest corner of First and Madison.
In the 1890s, workers building the Rainier Grand Hotel on this block tried to drive piles for the hotel foundation, but the piles rebounded rather than driving down into the ground because they were blocked by tin. The tin had piled up on the site of the tinsmith's shop where workers produced tin cups and dropped their refuse on the beach below the building. The tin was covered by further layers of refuse and dirt and forgotten until the pile driver couldn't drive piles and the tin was once again uncovered.
In 1930, the federal government acquired the entire block and demolished the hotel to clear the way for a new office building. The 11-story Modernistic-style building's granite foundation rests on 2,817 pilings driven into the clay layer under the beach—a veritable underground forest—and fill. When it opened in 1933, 52 federal agencies had their offices there. Today it houses a post office and a number of federal offices, although most federal agencies are now in the Henry M. Jackson Federal Building, located on the east side of 1st Avenue.