Leland Hotel, Main Arcade
Pike Place and Pike St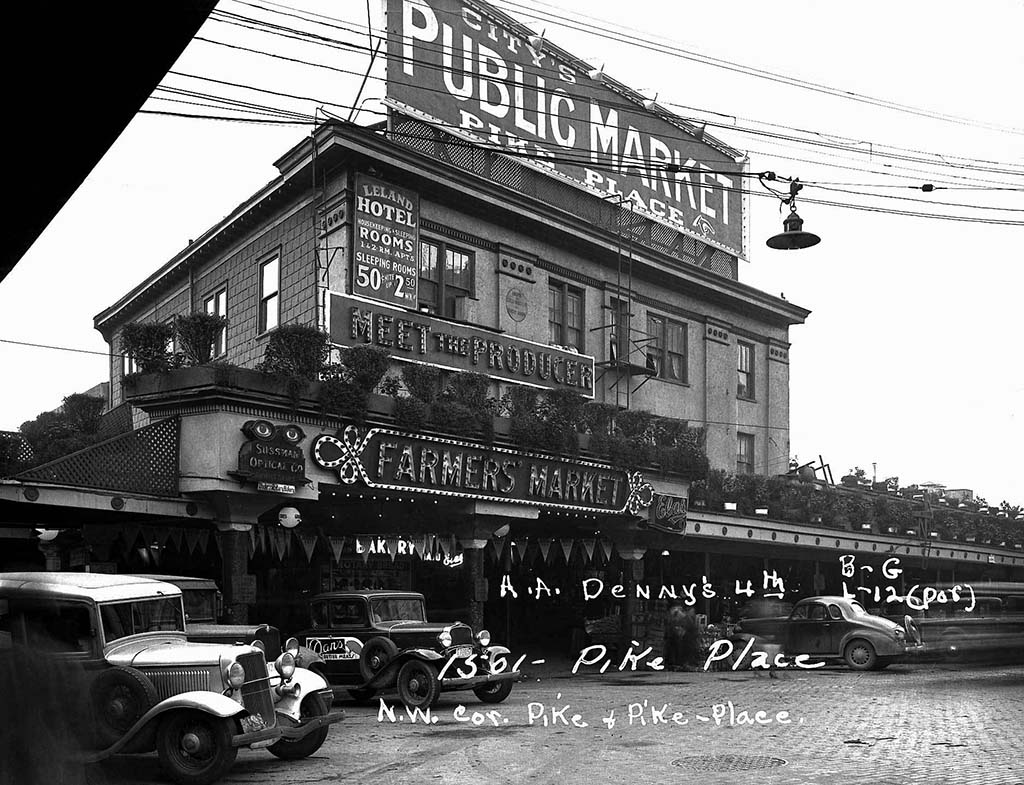 Leland Hotel, Main Arcade

Pike Place and Pike St
Pike Place and Pike Street
From our starting point just west of the information booth, note the pergola above you. It was added to the Market complex in 1917, removed by the mid-1970s, and reconstructed in the 1980's. Just east of here, where the Information booth is now, the first farmers arrived to sell their produce to an enormous crowd on August 17, 1907. Look up and west to see the iconic "Meet the Producer" sign along the top of the Leland Hotel. On September 15, 1902, the city issued a building permit for a three-story lodging house. The original south entry to the hotel is still accessible from Flower Row, leading today to the market-rate apartments above.
Frank Goodwin and his brothers had recently arrived in Seattle from the Klondike Gold Rush with $50,000 in gold dust and nuggets and plunged their newfound riches into real estate. They bore witness to the opening days of the outdoor market and leapt at the opportunity. Creating the Goodwin Real Estate Company, in September 1907 they purchased the Leland building, along with the adjacent hillside to the north. With John Goodwin acting as engineer, they constructed a one-story shed addition to the north of the hotel, creating a 76-stall space for farmers and other food-related businesses, giving farmers priority. They also added awnings to the storefront level of the Leland, visually connecting it with the new arcade. The addition opened on November 30, 1907 to a grand celebration including a 40-piece band and a now-iconic speech by Thomas Revelle, which can be found on a bronze plaque on the western face of the pillar in front of Pike Place Fish.
Alas, the Market was immediately inadequate as 120 farmers showed up. For the next 30 years the Goodwins would continue to improve, upgrade, and expand these core structures to meet the needs of a growing community.
Walk into the Main Arcade, and continue north (to your right). Take a moment to stop in an inconspicuous spot near the entrance to the Athenian restaurant.