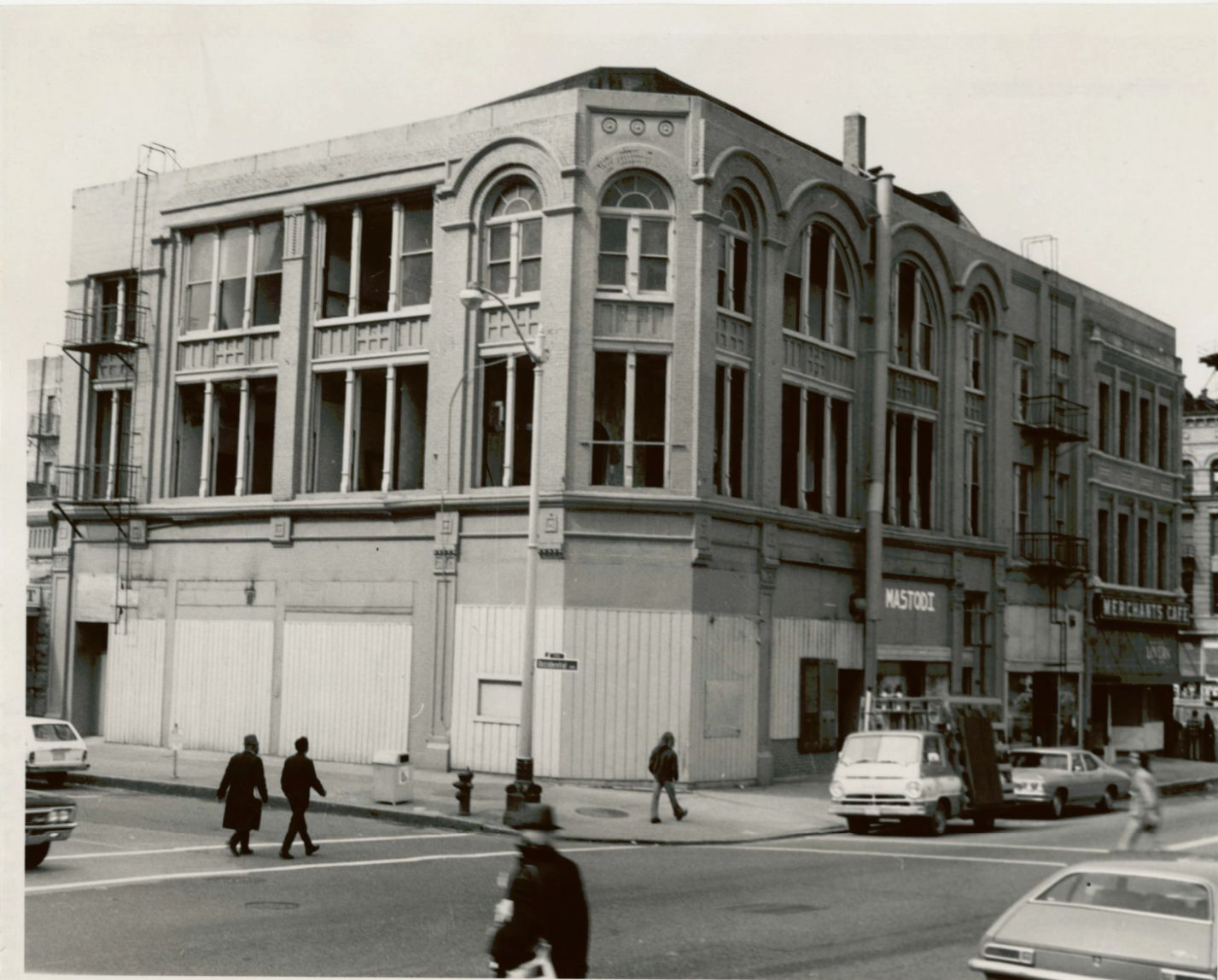 Merchant's Cafe

109 Yesler Way
With a history predating the Great Seattle Fire of July 6, 1889, the Merchant's Café was founded by John Hall Sanderson in a two-story wooden building typical for this neighborhood. After the fire it was quickly rebuilt in brick as part of the Sanderson Block Building. The new building featured a liquor emporium and café at street level and two floors of a hotel above. Sold in 1892 to Charles Osner, it was recast as the Merchants Exchange Saloon, a favorite dining spot for businessmen. Simultaneously, the upstairs rooms served as a brothel throughout the Gold Rush years.
In 1898 Franz Schreiner, who fought during the Treaty Wars with the U.S. Cavalry, acquired it, and the café remained in his family for almost eight decades, though the business struggled and fell into disrepair after the economic crash of 1929 and the ensuing Great Depression. In 1952 the Bureau of Internal Revue granted the Café's owners – Schreiner, Karl Dachs, and Max Ostermann – a license to allow gambling.
Ostermann was a German immigrant who served as a bartender for 15 years. The Café benefitted from its association with the Seattle Underground Tours, which began in 1965 at 614 1st Avenue. In 1972, and under Dick Moultrie's management, the building underwent a major revamping, just as Pioneer Square was being reevaluated as an historic district. The café's vintage vibe – including a late-1800s carved mahogany bar (which was shipped around Cape Horn), pressed-tin and ornamental cove ceiling, and well-trod wooden floor – made it a favorite local watering hole.
By 1973 the café was featuring live music, including, over the years, jazz (by Dianne Schuur, Bill Smith's Trio, Collier and Dean, and the Pete Leinonen Quartet); blues (by the Hokum Blues Band, Brian Butler, Kathy Hart, Patty Allen, Bill Engelhart, T.Q. Junior and the Icemen, and the Fenderskirt Blues Revue); and rock (by Abraxas, Arrow, and Owl). In 1977 the city's top rock band Heart threw a record-release party at the Merchant's for its Little Queen album. Around that time, the café changed hands yet again. In more recent times the old cardroom in back went away, and the upstairs units were spiffed up as a boutique hotel.
Return to 1st Avenue and turn left, walking south to our next stop.