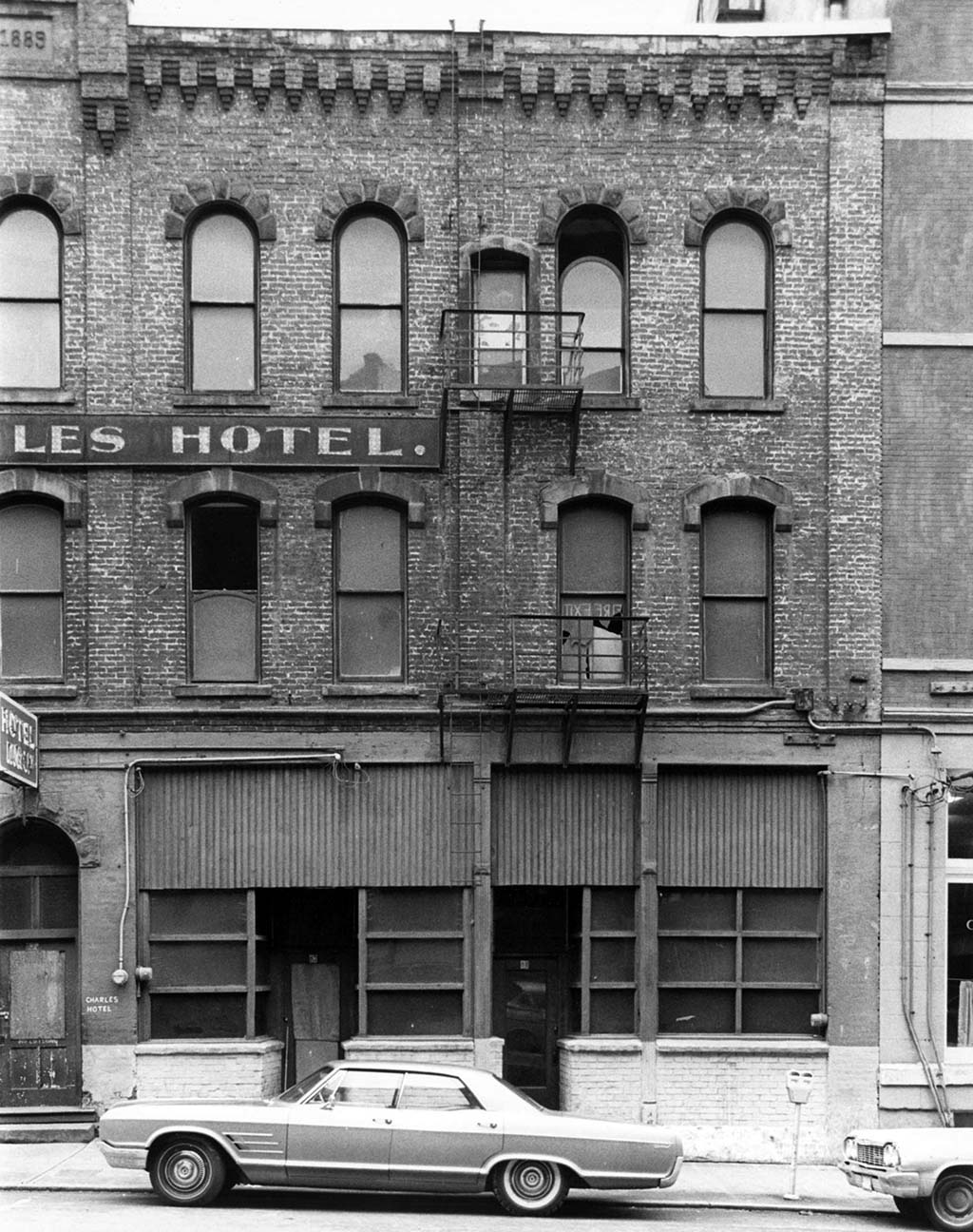 St. Charles Hotel

81 S Washington St
117 S Washington Street
Pioneer Square has a long history of hotels, beginning in 1853 with the Felker House at 1st Avenue South and Main Street. By the mid 1890s, more than 60 dotted the landscape, with most catering to long-term residents, a typical development for emerging Western cities. The next decade also saw the growth of tourist-oriented hotels, particularly during the ramp up to the Alaska-Yukon-Pacific Exposition of 1909.
As with many cities, hotels in Pioneer Square, such as the St. Charles (built in 1889 and known initially as the American Hotel), came in several flavors. Many provided family-style suites of interconnected, furnished rooms, where meals and household help were also provided. In many cases, the father arrived first and rented a room, then a second one to run his office, and finally additional ones for his family. Further amenities could be found on the ground floor, which in the case of the St. Charles, housed saloons; lodging was on the second and third floors. A hotel such as the St. Charles could also have provided rooms for a workingman population, such as loggers in town for a weekend, sailors on shore leave, recent immigrants getting oriented to their new country and seeking opportunities for settlement, and Native people visiting town or choosing not to live on reservations.
Further down the scale of lodging were accommodations with an unfinished space and cubicles, or cribs, separated by wood or corrugated iron partitions. A typical crib with its partial walls had enough space for a single bed and chair but they did provide some privacy — the cages could often be locked — at a very cheap price, and would have served a more transient population. An example was the State Hotel (116 1st Ave), where one can still see the "Rooms 75¢" sign above its old entrance.
Single Room Occupancy hotels operated throughout the city until the 1970s, when many of them closed following a fire at the Ozark Hotel (Westlake and Lenora) on March 20, 1970. This fire spurred the City Council to enact stringent new fire codes, which required hotel and apartment owners to add sprinklers and fire doors, and abide by other fire codes. The expense in bringing the hotels up to code led many to close, significantly altering the character of Seattle's historic neighborhoods.
Return to First Avenue S, turn right, walk south one block to S Main Street, turn left, walk east one block to Occidental Avenue S. This is the former location of the Carrolton Hotel, 217-1/2 Occidental Ave S.